Who's up for Japanese food today? Well apparently, we all were last Sunday. We've been hearing positive reviews for Kitaro Restaurant located behind Centrepoint, Gadong; what more, the amazing deal they're having for their Sungkai specials. It was $22 bnd for every adult, with an ALL YOU CAN EAT spread. So we decided to take an opportunity to visit the place for ourselves. We reserved a table for a group of friends, and arrived there exactly 7.30pm. But we didn't get a table until 8pm, because the main VIP room was still occupied by guests. So we took over the teppanyaki room, but I especially do not recommend this if you have a huge group of people joining for dinner for the difficulty in passing food from one end to the other.
Anyway, initially it was a mess, we were all loud and causing such a ruckus as to what to eat,
and asking for saucers and wasabi,
but eventually we all settled down as soon as the first glorious plate of sake(salmon) sashimi arrived. And what glorious sashimi it was!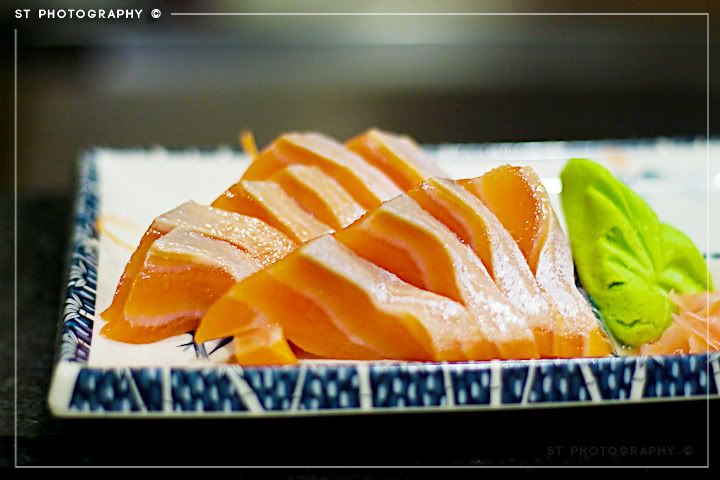 Sam, our (un)official photographer of that night, managed to take one snapshot before it was devoured by us hungry beasts! Either I hadn't had a bite of salmon sashimi for ages, or it was really mouth-trembling-good! It was fresh, and it melts in your mouth with such tender sweetness. After that, we ordered about 3-4 more plates to satisfy our salmon cravings. But that's not all that we had.
I'm not sure what this piece is called, but it was a pass-able meal, with really soft, literally-melts-in-your-mouth tofu, and scrambled egg on a hot plate.
After that, my tamago sushi arrived. I always order this every time I enter a Japanese restaurant without fail. It was obviously gobbled up by our friends in lightning speed, leaving this little fella alone on the plate, but enough time to give Sam a quick snap of it. Again, it tastes standard, but good enough to eat.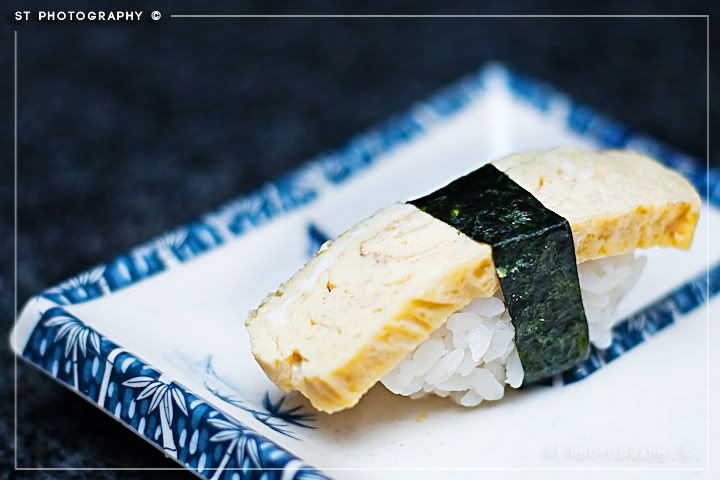 Here's a cousin from the above tofu clan, but I did not catch what this was called. It was just as soft, and the sauce really complimented it.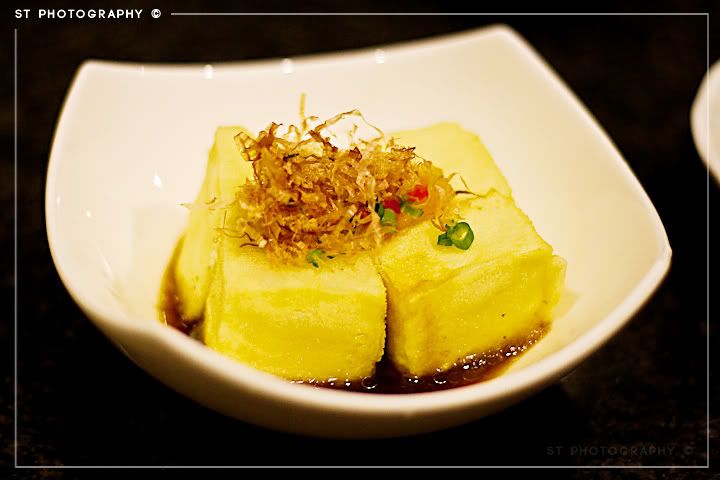 Our friend Esther, ordered the soba, but I didn't try it, so I guess I can't really comment. I'm not a fan of cold noodles to begin with anyway. (Or was it hot?)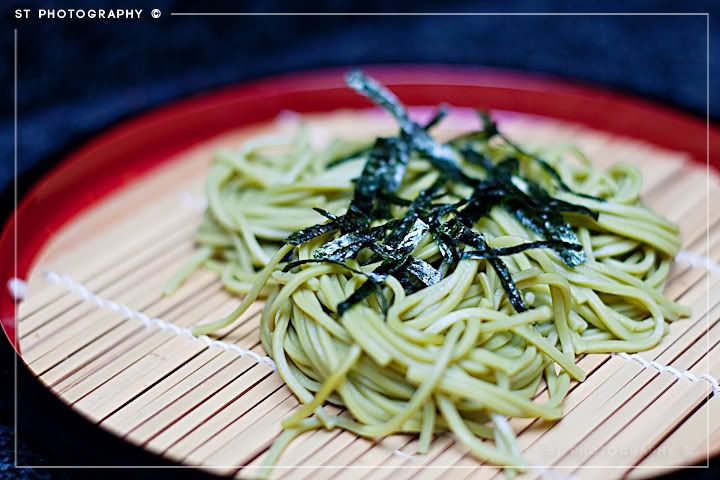 Then there's the fish that got pregnant mid-cooking. Okay, I'm kidding, but we ordered a plate of pregnant fishies and that was satisfactory.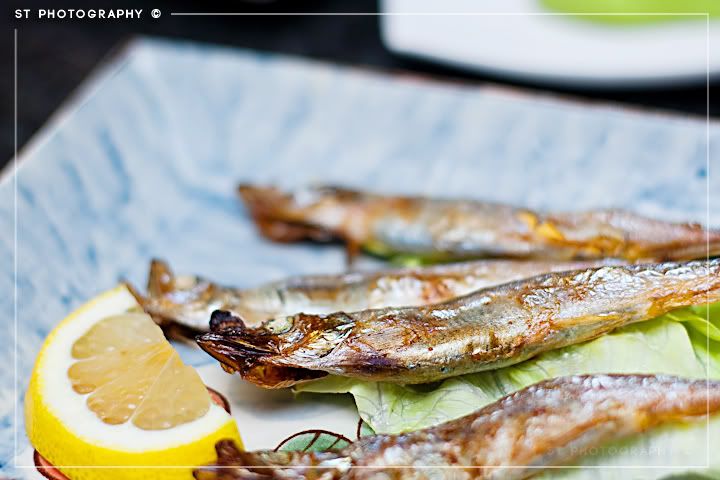 Then came the sushi clan. We ordered quite a different number of sushi, including the ever popular california maki, but unfortunately it disappeared before Sam could shoot it, so nyeh, you'll have to make do with these photos below.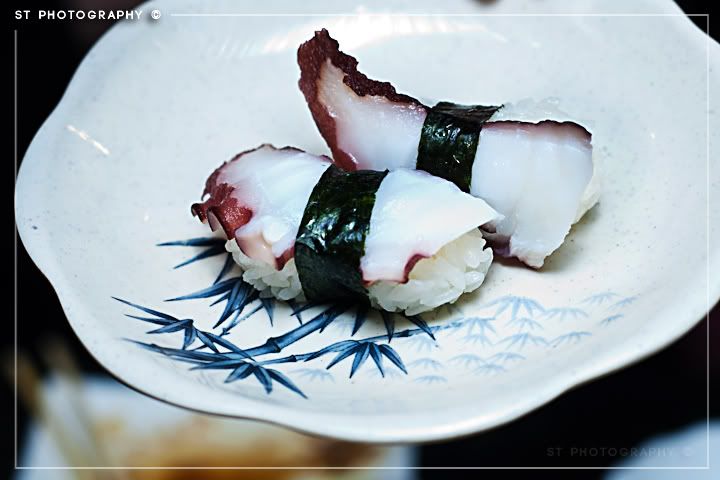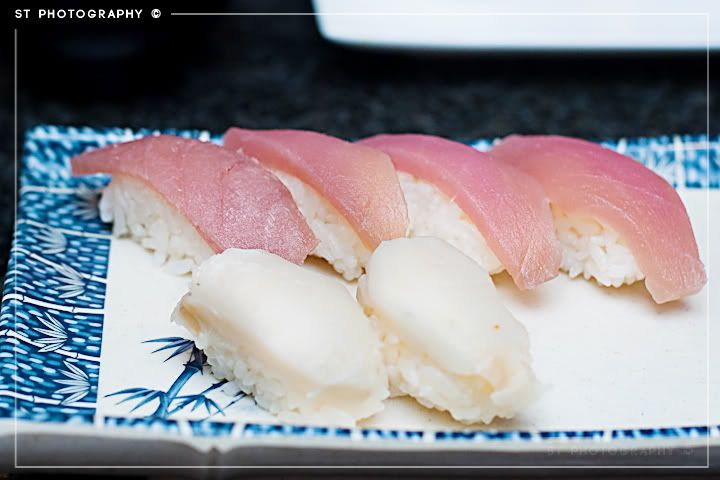 Absolutely delicious, especially the ones with salmon. There were also raw tuna, cuttlefish and eel; and Sam just loves his Tamago Unagi sushi. Delicious, and extremely heavenly each time you pop one into your mouth.
Then here comes the main course. This salmon head dish is for you, especially if you love fish eyes. But not for me. I prefer the meaty part.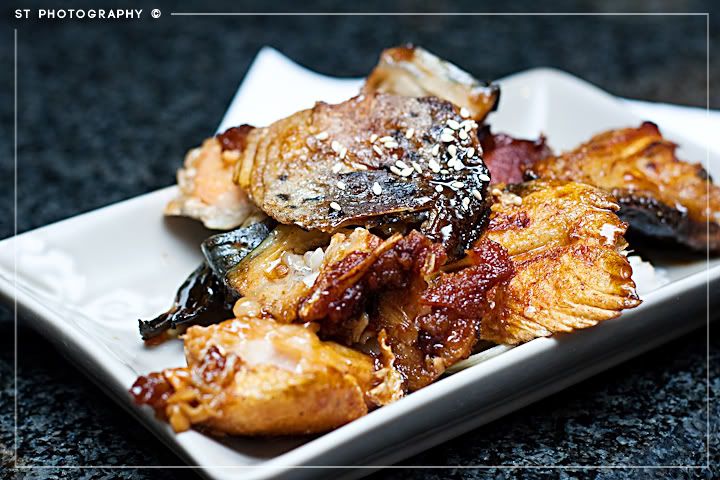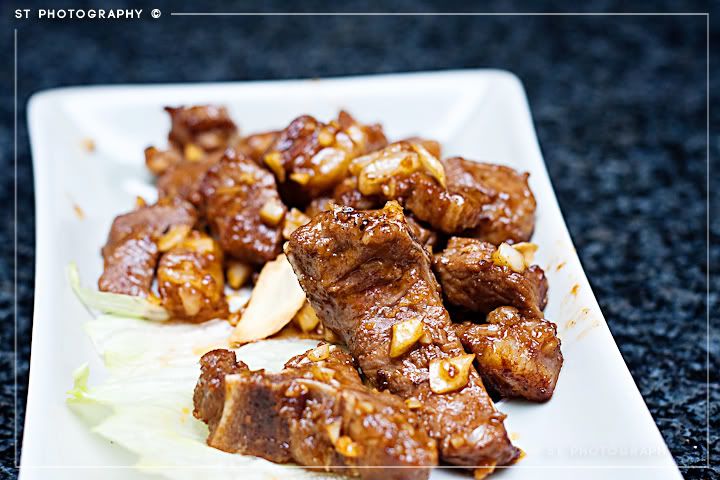 The grilled beef is delicious and lip smacking. It was grilled to
almost
perfection!
And lastly, the idako. A must- have for every japanese dinner. It was fresh and chewy and oh-so-good! I think if I'm not mistaken, for a small bowl, you'll be able to find 4-5 baby octopuses. I wish they'd add more!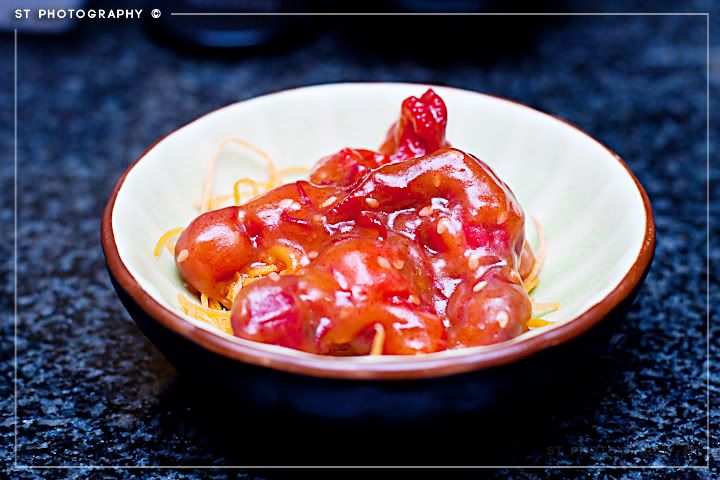 Now for a food rating, drumroll please.........................................
Food: 4/5 (Fresh and delicious!)
Service: 4/5 (They were quick, and friendly.)
Environment: 3.5/5 (Quite small and narrow, but it has the japanese vibe!)
Appetite: 5/5 (Tummy was content)
Price: 5/5 (Totally worth it, in terms of the current (Sungkai) promotional value)
Overall: 4/5
Now if you were to ask me, which is better? There's no doubt about it, the ever popular Excapade Restaurant got themselves some competition! A lot of people commented that their salmon sashimi was better than Excapade, but I didn't go to the latter for a long time, so I can't really make a comparison right now. But I am quite content with Kitaro, and if they keep the great job up, there's no reason why they can't be at the top of their league. All hail Japanese food!
Thank you for reading this fool's review and I would like to thank Sam for allowing me to write a guest blog as well as taking all of the photos you see above. This is my first post regarding food, but do expect more to come. Till then, have a Yummy day!
Kitaro Japanese Restaurant
All you can eat buffet (ranging from starters & sushi to sashimi & teppanyaki)
Tel: +673 245 7373 Adult: $22 (Sungkai Promotion)

Thanks Amy aka CreativeMelancholic for a well written food reviews ^w^